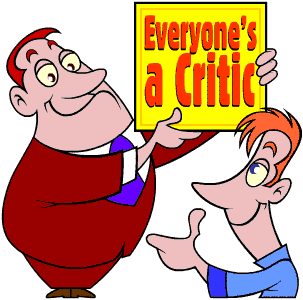 Its actually hard to criticize anything (in cosplay) without hurting anyone's feelings even if the critic itself was well intentioned, especially if its towards a person being criticized who has loyal peeps who often (and amusingly) gets hurt in their stead, so the actual helpful intention gets muddled under all that trolling from defenders.
I remember having one amusing critic who said I had kick-ass costumes, and then saw a pic of me unmasked and said "ay tabatsing pala (omg he's a fatso!)". Hehe, i guess you can't please everyone.
Critics have one goal in mind: to find out what they feel is wrong with you or your presentation. How they say it is always open to debate and interpretation. And the most important part of is how YOU take the criticism. The best way to do it is to first find out what was your real intention of doing what you did. Then check out their comments and find out which ones you feel is relevant to your intention. And when you identify which comment would help you improve, thank them and ignore the rest you deem as trolls. This is not a perfect system, mind you, it depends on your mindset. If you look at the comments with a narrow mind, thinking that only good comments are worth looking at and ignoring what you or friends or loyalists felt as negative comments/trolling without really thinking it over, then there is really nothing a good or civil criticism can help you.