My Starcraft Hydralisk Zerg costume made for You Got Game convention last 2006. I only remember seeing two videos of it in action, one shot during the catwalk, and this. This was shot in our garage, where a friend of mine wore it because he wanted to borrow it for a Halloween party. Added some sound effects.


It had a good run, years in fact, worn by numerous friends and won some contests as well. It was also one of those really great achievements of mine in costume making, sitting second to my APU and in front of my Accrecia.
For those who dont know what i was talking about,
it was this Zerg costume, first worn at UGOTGAME last 2005.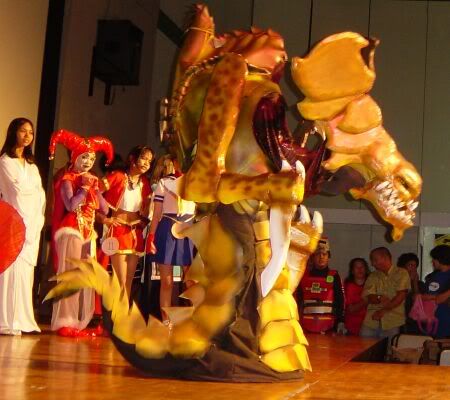 Now its all this: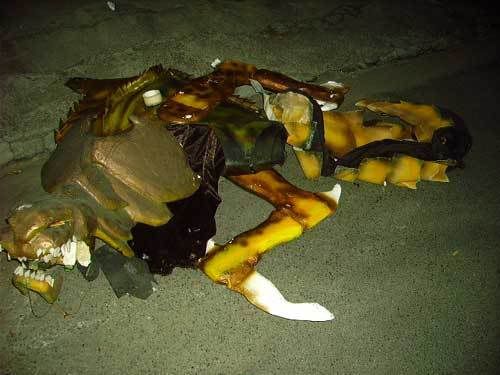 It's really been a wreck for nearly a year. I never tried fixing the jaws
and the lower garments that composed the tail had never been cleaned for nearly
2 years. Crickets, lizards and all manner of creatures have lived in them while
stored in my garage cabinet.

Now i fondly cradle the remains and decided, what the hell, it had a good life.

My sister was overjoyed to hear i was throwing away the Zerg, for during its
early production days the first time she saw my costume was one late night
when she got home and some thing greeted her as she walked towards
our front door. Needless to say, it was a traumatic experience for her.

Now, as part of her therapy, its about time she take her fears head on.




You should have seen her gleefully smash my poor Zerg to pancake-like proportions
although she had a hard time flattening the head since it was very well-made
and expertly layered with paper mache and Elmer's glue by Jewel (during the days
na nililigawan daw niya ako, ohohoho. XD)




Gail's fiancee helped with the disposal. I was amused for the fact that passer-bye's
found the scene surreal, and will undoubtedly add another notch to my already
notorious Urban Legend status.
Before stuffing the Zerg in its makeshift bodybag, I decided to check what i could salvage from it. The neck was made from cloth printed with crocodile scale motiff, so i thought it may prove useful so i took it out. The head had a built-in water gun that still worked, so i took it out as well. As for the rest, i thought i could spare the Zerg further humiliation and for selfish reasons such as Branding Identity. I wouldnt want one of the basureros wear the costume and for people seeing it walking around the Payatas Dump scaring the shit out of street kids. So i chopped it to little bits before stuffing it in the bag.
Oh well, im going to miss that Zerg, and it just had to go for practical reasons. My Accretia now occupies the space in the closet where the Zerg used to be. I imagine if he's wondering when would it be his turn.